ATS Carbon Blade Clutches
We are very sorry this product has been discontinued.
| | |
| --- | --- |
| | |
| Carbon Blade Single Clutch | Carbon Blade Twin Clutch |
By utilizing the newly developed carbon material (originally by ACROSS), ATS has released stock compatible carbon clutches with a superior cost performance. The carbon blade clutch can present the excellent peformance with a reasonable cost. There is no pull - push conversion required for the blade clutches.
Heat resisting property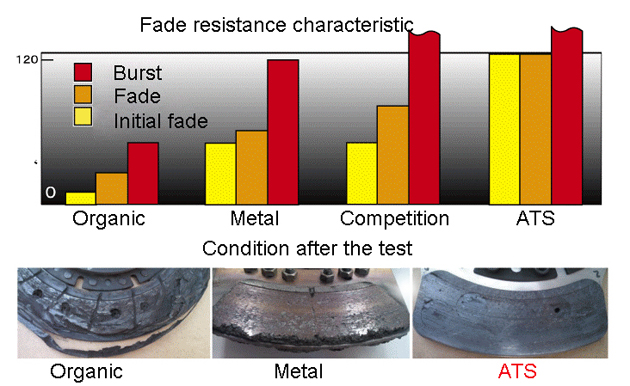 The above shows the result of a test where heat is applied to three different materiales repeatedly more than 100 times. The comvensional organitc or metal disc loses its torque delivery at a very high temperature environmnet due to the fading.
However, ATS carbon blade disc maintains the stable friction performance even at a high temperature where other materials fail.
Excellet Torque Delivery
With a cover of a higher clamping force, the blade clutch can meet tough racing requirements. The single blade clutch for Subaru Sti (with ATS cover) is rated at 400 hp / 43 kg.m torque. The twin is rated at 800 hp / 80kg.m.
Stable Torque Delivery
The torque delivery property is stable from low to high temperature, which makes your driving easy from the street to race track.
Quick Shift
The weight of the carbon material is about 1/4 compared to the metal. You can shift very quickly from the very low inertia. The low inertia also reduces the damage to your transmission.
Choice of the disc
For the single blade clutch, you can choose the disc with or without damper springs. For twin, it is available only with damper-less disc.
ATS blade clutch comes with a newly designed ATS wedge collar.

It is strong, flexible, and easy to install.


please click for the application list





Click the picture above to get a larger image