ATS Carbon Clutches
The ATS carbon clutch with its super light and heat resistant characteristics of CC composite gives a driver truly exceptional strength, response, and durability.
The ATS carbon clutches are very well known in the world with its unsurpassed torque delivery, durability, smoothness to drive and easiness to the transmission.
New Version Spec II
-
click here
New Carbon Hybrid Clutch
-
click here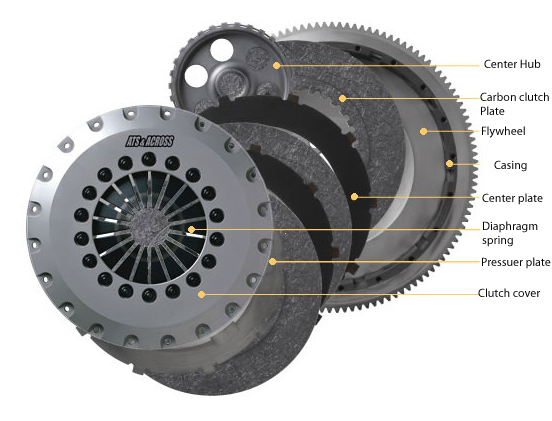 ATS Carbon Clutch features
* Outstanding torque delivery from the 9 inch diameter CC composite friction disc
* Rated horse power – Single up to 400 hp, Twin up to 670 hp, & Triple up to 1,000 hp at the wheel
(for Spec II - Single up to 530 hp, Twin up to 800 hp, & Triple up to 1,200 hp)
* A super light clutch disc insures excellent clutch response and shift feeling
* Super easy operation - engagement is exceptionally smooth
ATS Silent Carbon Clutch
ATS Silent Clutch Series utilizes the stock dual mass flywheel for the exceptional quietness.
Please click here for detail
ATS Non Conversion Pull carbon clutch (NC-Pull)
The evolutionary ATS Conversion Free Carbon single / twin clutch uses a stock clutch cover and is
pull-push conversion free.
Please click here for detail
Detailed information on a specific ATS carbon clutch
[For the updated prices, please refer to the application section]
Rated Horse Power (click)
Clutch Weight (click)
Clutch Pedal Effort (click)
Carbon clutch for 350Z HR / 370Z
[Concentric slave cylinder (CSC) is replaced with ATS activation mechanism]
Silent carbon clutch for 350Z DE

please click for the application list


Click the picture above to get more information on each carbon clutch