Z33 (350Z) project - REV Speed June 2009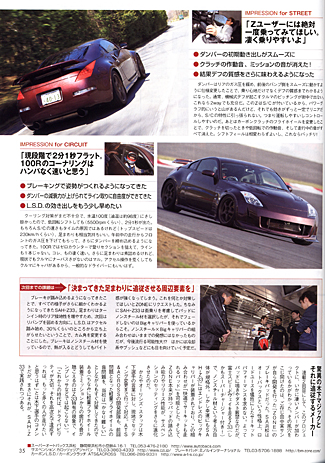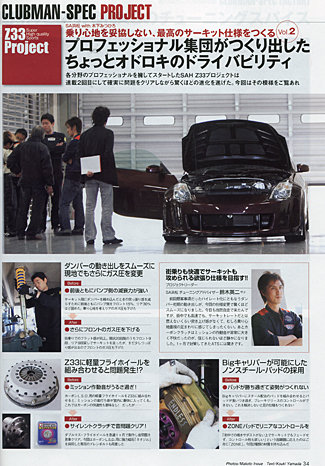 Clubman-Spec Project
The Z33 (350Z) Clubman-Spec Project was developed by Super Autobacs Hamamatsu and has been featured on REV Speed Magazine. The objective of the project was to build a 350Z which would be a smooth ride on street driving and extremely fast on racetracks. Three manufactures accepted this challenge and professional race car driver, Mitsuhiro Kinoshita, was chosen as the supervisor of the project.
ATS is one of the companies which have been participating in this project along with Super Autobacs, CARROZZERIA Japan (Suspension), Minoru International (Brake pad). ATS has provided a New Dual Mass Silent Carbon Clutch and Carbon LSD for the challenge.
The above article is the second report of the project from REV Speed June 2009 issue.
Several Excerpts:
The Perfect Z for Street & Racetracks
By the project leader: Eiji Suzuki / Super Autobacs Hamamatsu
"
We have changed the spec of the dumper in order to make the dumper movement smoother with the higher spring rate. I drove the car myself here and was surprised with how smooth and comfortable the ride was. There is no way you can feel this is a spring rate which usually reserved for racetrack application.

Regarding the ATS carbon clutch, the standard model was kind of noisy and I was uncomfortable with it. Then in one month, ATS brought a new silent clutch which eliminated most of the noises. That was an amazing accomplishment
."
Driving Impression:

By Mitsuhiro Kinoshita
"
The drivability of the car has been immensely improved and now I can feel the rear LSD movement much better. This must be due to the smoother valve movement of the suspension from the optimum setting of the gas pressure rate. Usually a clutch type LSD causes some kind of hunting on a slow street driving, but this LSD does not have one. …..

The chattering noise when you disengage the clutch and gear noise all disappear after ATS changed the flywheel of the carbon clutch. The shift feeling is excellent as is the case of the standard carbon clutch. I really do not have any complaints
."
Mr. Kinoshita strongly feels that the realization of high performance and smooth & comfortable drivability at high level is very important. ATS is playing an important role toward that achievement with their Dual Mass Silent Carbon Clutch.